The recruitment process for cleaning staff is different to the recruitment process for a lot of other roles. As cleaners are often hired with little credentials other than experience.
Read Time: 4min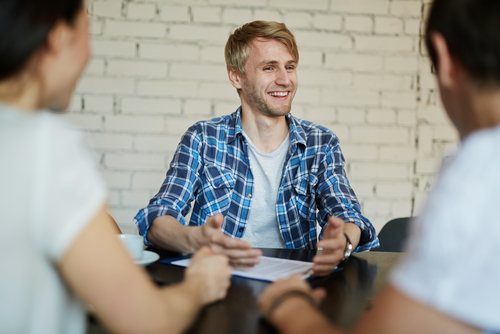 A variety of different people apply for cleaning positions and it can be difficult to qualify certain individuals over others. However, if you have qualified your cleaning staff applicants to this article aims to provide tips on how to interview cleaning staff so that you can get the most out of your first interview and therefore ensure the right people move onto the next stage of recruitment.
Don't Interview Prospective Staff Alone:
A great way to set the scene for prospective staff members is to ensure they meet more than one, even more than two current staff members in their initial interview.
When people are interviewed by more than one person, it can be intimidating, which means they really have to bring their A game.
Additionally, it can give you an insight into how they react under pressure and how they communicate with different personalities.
Yes cleaners often work alone, however, they still need to have the people skills to be able to communicate with Customers, Supervisors, Managers and Colleagues effectively.
Give Them Problem Solving Questions:
While interviews are great in order to get to know someone and asses their general communication skills and previous experience, it can also be effective to throw some tricky questions at them and see how they respond.
Now, when we say tricky we don't mean totally out of the realm of doable.
However, the biggest part of this is just observing whether they give it a go.
Sometimes, it's important to test someone's ability to at least try, even if they fail, it doesn't matter - it's the fact that they gave it a go in the first place. This will also demonstrate how they would handle a problem or maintenance issues for example onsite.
If you get people straight away saying "I don't know" that might suggest that they are more inclined to give up when given a difficult task.
Some challenging problem solvers might include:
How would you go about finding the information about the Chemicals you use?
If you received a table from Ikea or similar, and it didn't have it's instructions what would you do?
What would you do if a Client asked you directly to perform some work outside your normal duties?
Experience:
Previous Cleaning Experience is quite clearly a highly sought after trait when interviewing prospective staff. Therefore, if someone does claim to have previous experience it's important to put emphasis on their experience and ask the right kind of questions so you can better understand their past achievements. Some questions might include:
Where have you previously worked and why did that end?
How long were you working in your previous jobs?
Which has been your favourite company to work for and why?
Have you ever had to deal with an emergency? If so, can you explain them.
What's your process for Cleaning a Toilet?
When making up a cleaning bucket what process/steps do you follow?
In your past positions, what did you do with your clothes after each clean?
Asking about previous work places, is equally as important as asking about the lack thereof.
If someone does not have any previous cleaning experience, don't rule them out - everyone has to start somewhere.
The opposite can be said for someone who has worked for 7 different companies within the last 3 years. You have to ask why? But this is your opportunity to ask them why?
It's important to analyse how badly someone wants this position, ask them "why should we consider your application over those who have much more experience?" This question is extremely vital, as you might be pleasantly surprised with how badly someone wants the position.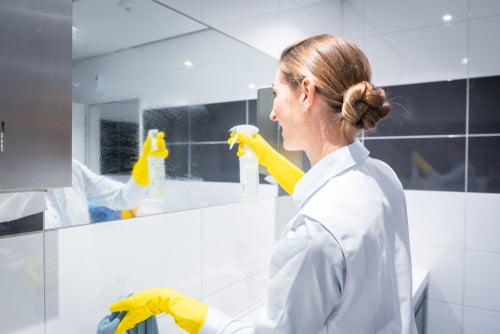 Cleaning Questions:
It's important to ask the right questions, even the basic and general ones. Examples of more general type questions are:
What cleaning products have you used in the past?
How do you clean computer screens?
What's your favourite Glass Cleaner?
How much time do you need to clean a working space of 10 offices?
What are the most important duties when cleaning a bathroom?
Is there any specific task that you don't perform? (e.g. due to an allergy)
Do you have experience with outdoor cleaning?
How flexible are your working hours? Would you be available for early morning or late night shifts?
How do you treat different materials like wood, marble or granite?
Are you familiar with cleaning machinery? What devices have you previously used?
If you found a personal item and you didn't know who it belonged to, what would you do?
What do you do when you have to move heavy furniture to vacuum?
Are you familiar with health and safety precautions?
While all these may not be relevant to you and the position you are recruiting for, it is important that you have a structure and a framework aimed at qualifying the best applicants.
Of course, if your business users tools digital applications such freshOps, you also want to make sure they a suitable BYO Device to be able to communicate effectively with you as the business owner.
Do you have a smartphone?
Do you have a Mobile Data Plan?
If you phone battery is low, what is your fallback to ensure you can always been contactable? Spare Chargers, Battery Powerbank, Car Charger etc
If staff are using their BYO Devices, it's also important to ask them if they know of the tax benefits of using the personal phone for work purposes. In most cases, this far out weighs any personal out of pocket they may occur each month. So make sure they know how to learn more about Taxable Claims when it comes to their employment too.
Hopefully the above tips and tricks can assist you with your interviewing process.
The key is to test their responses to more difficult problem solving type questions while also getting to know them and making them comfortable.
If you found this article valuable, please share it with your network below.
We love you longtime! 😍